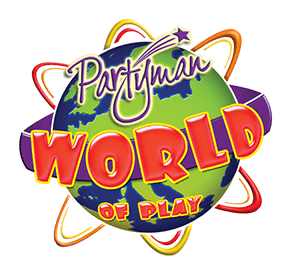 Sorry we're closed until further notice
We are extremely devastated to announce after the advice from the government for everyone to avoid social places that we have no choice but to close until further notice.
Parties – We will be ringing around to discuss options. We are so very very sorry. This is totally out of our control.
Events – We will keep you posted ASAP.
Annual Pass Holders & Monthly Pass Holders – We will add the amount of time we are closed to your pass.
We just want to say this is not just a business to us this is our family and our staff's livelihoods. We are so truly heartbroken to have to make this decision by a situation that is totally out of our control.
We hope to see you all very, very soon.
Magically yours
Jim, Aaron the Partyman Team & Cosmo the Dragon.
Find out how owner, James Sinclair founded Partyman
There was once a scrawny boy called James Sinclair who lived in Elm Park. James had always known that he wanted to be a children's entertainer and then at 15 years of age something strange happened… James became 'Jimbo the Partyman' and from his Nan's spare room, The Partyman Company was born! By 2005, James was extremely busy and realised that he could venture out on his own rather than work alongside the entertainer he had been with. So James took on other entertainers to work for him, including 'Active Aaron' and they became The Partyman Team!
On 25th May 2007, at just 21 years and 11 months, James opened Partyman World of Play in Basildon. Partyman World is the only playcentre in the UK to be opened that is operated entirely by professional children's entertainers, and also the first of its kind to be opened and owned by someone so young. Then in July 2008, The Partyman Company and Partyman World proudly became winners at 'The Basildon Business Awards' in the category of 'New Company'.
Jokes are funny, why not try our Joke Generator
In 2009 the second Partyman World opened its doors in Lakeside with the very first Twizzle Tops Day Nursery. The following year in July 2010, the third Partyman World and second Twizzle Tops Day Nursery opened in Wembley.
In September 2011, Twizzle Tops Day Nursery opened its doors within Partyman World Basildon bringing the number of nurseries that Partyman operates to three. September 2011, also saw the brand new Laser Kombat arena open right next door to Partyman World Basildon. This has been a huge success with adults and children alike.
In 2013 we saw the opening of two new Partyman World of Plays in Stevenage and Oxford, two Laser Kombat Arenas and a new Twizzle Tops Nursery in Stevenage. If all that wasn't enough the newest addition to the family Marsh Farm has brought 30 acres of magical fun to the group with its very own restaurants, gift shop, petting barns, bouncy village and lots lots more… the fun is never ending.
The rest is history… The Partyman Company now operate 20 different businesses in 10 different locations around the country.
Get the latest news and offers
Top